Is your sales process the most efficient and effective possible? Take your sales process to the next level with a solid strategy.
Looking to shorten time to close and visibility within your sales process? Optimizing your sales strategy is key.
In order to get the most out of a HubSpot Sales Hub Implementation it's vital to start with an effective sales strategy as a base.
You likely already have a system in place with your team that you use to pass leads to your sales team, work those leads, and document those that have completed a purchase. That said, many clients benefit from optimizations such as:
Automatic or partially automated lead assignment to members of your sales team.
Standardized qualification of potential clients.
An objective-based sales process that grants visibility of key touch-points that potential clients experience as they traverse the sales process.
Standardized data collection throughout the sales process that ensures that your sales team is documenting the information needed on each deal.
Automatic or partially automated follow-up with leads through the sales process to ensure that no lead is forgotten.
Index:
What is included in Sales Strategy Creation?
We have an established process to optimize your sales process and help you get the most out of your Sales Hub Implementation:
Step 1. Discovery
Here we will dig deep into your current sales process so we can understand the key tasks that need to be accomplished by both the customer and your sales team. We also seek to understand current pain points generated by your sales process so we can reduce friction within the sales process.
Some questions you can expect us to ask during this stage are:
In just a few minutes, could you give us a general idea of how your sales process currently works?
What are the key tasks that need to be accomplished by the sales team throughout the sales process?
When does a lead get passed to your sales team?
How are leads currently assigned to your sales team? Is this transition currently smooth, or is there room for improvement?
How long does it currently take on average to close a deal?
Does your sales team use any other tools besides HubSpot throughout the sales process? If so, what function do they serve?
Are there any moments of the sales process that clients seem to experience the greatest amount of friction?
When is a deal officially won — what needs to happen for a client to become a client?
Step 2. Sales Process Mapping
Here we will map out our entire sales process based on the discovery we have completed together, incorporating best practices for an efficient and effective sales process so you can get the most out of HubSpot.
We will review important concepts such as:
How new deals will be created by the sales team using a standardized qualification criteria and process.
Confirmation of the stages of your sales process.
Who will be interacting with the sales process, at what points, and what their role is in the process.
Key pieces of information that you need from opportunities as they go through the process.
Main points of friction that you, your leads, your sales team, and your company as a whole currently struggle with.
Elements of your sales process that currently lack visibility or you would like to report on better.
The outcome of this stage of the process will be a sales process map that you can use as ongoing documentation for the process: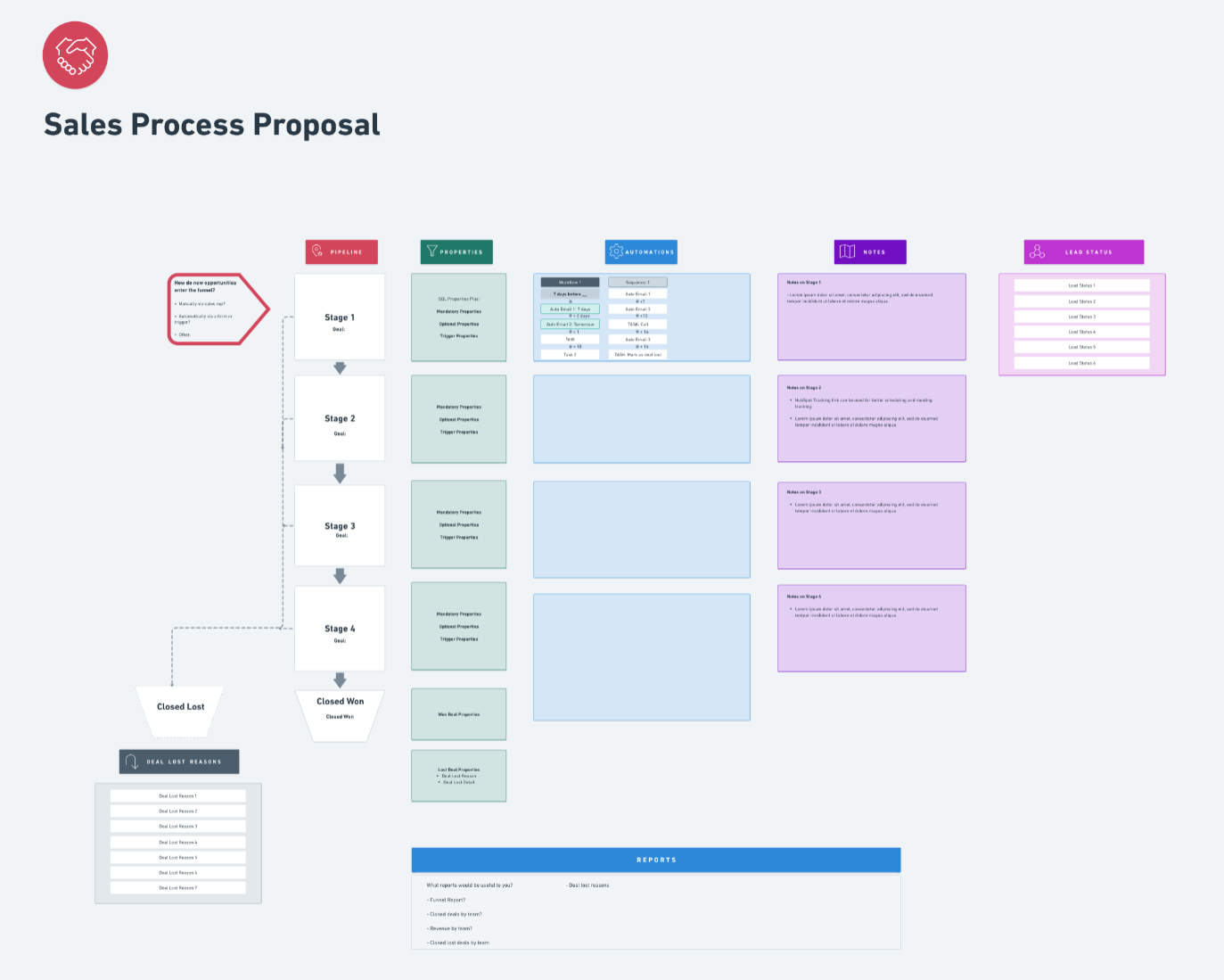 Step 3. Review & Feedback
Once we create your complete sales process mapping, we will review it with you and any other key decision maker that should be involved in the process.
We will give you a set time to review the process and provide us with feedback. You will be able to add comments directly to the sales process mapping to add new details or provide clarification where needed.
We will then have one final meeting in which we will review your feedback and receive your final approval of the sales process mapping.
Implementation & Approval:
If you have also chosen to complete your HubSpot Sales Hub implementation with us, we will implement your sales process at this point. This process will also have it's own respective approval period.
Ongoing Support & Training:
Need help training your team? You can add sales team training to your strategy creation!
Or maybe you would like a period of flexible support in the event you need adjustments to your sales process or modifications. You can add HubSpot Support to your strategy creation in this case.
Our plan for success:
We will plan your project timeline from end to end and present it to you before the project begins.
Each project includes:
Kickoff Call: where we will set a timeline and guidelines for the project and dig into your priorities for your Service Strategy.

A Discovery call where we will review your sales process from top to bottom, uncovering areas for improvement and ensuring that we understand your entire sales process

A Sales Process Mapping call where we will present our initial mapping of your sale process in its optimized version, and add additional detail.

Sales Process Approval Call here we will review the sales process mapping along with any feedback you have provided thus far with the goal of reaching a final approved sales process.
Setting Expectations:
What you can expect from us and what we expect from you in order to ensure that your project is as successful as possible.
What we expect from you:
Timely provision of relevant resources, accesses, and feedback.
Availability of an average of 90 minutes per week from all team members involved in strategy formation.
Availability of an average of 30 minutes per week from main points of contact to complete tasks.
What you can expect from us:
Continuous communication.
Transparency throughout our projects together.
A team that has your best interests at heart, since your interests are our interests.
Hard working and innovative team members.
Why Choose Digifianz for your Sales Strategy?
Digifianz has nearly ten years of experience in creating and implementing sales strategies for companies in a variety of industries throughout North America, South America, and Europe.
We have always specialized in HubSpot, which gives us a unique experience and perspective to ensure that your strategy coincides with the tools you use in HubSpot's Sales Hub.
Your company and it's purpose are important to us, with Digifianz you are not just a number — we manage a smaller number of clients, providing more comprehensive services, to become your strategic partner rather than a simple implementer.
A track record of success:
While we have implemented an array of sales processes of different scales across a range of industries, the Nearsure Lead Generation Sales Pipeline was a particularly interesting project. The pipeline we created was used as a specific lead intake pipeline for the team, allowing Highly qualified leads to be qualified by the sales team directly. This pipeline was particularly useful with Nearsure's in person events and connections which could be added to the pipeline and qualified to continue along the sales process or to receive further marketing as need be.
Do you want to optimize your Sales Process?