Organize customer support and internal processes more effectively with a solid service strategy.
Looking to retain customers and reduce operational load on customer service personnel? Start with a solid service strategy.
Prioritize, assign, and report on tickets from the moment they are opened to the moment they are resolved. Gain more visibility into internal processes and customer support processes for efficient and impactful results.
Index:
What is included in Service Strategy Creation?
The development of a detailed Service Strategy is a fundamental first step to any optimized Service Hub Implementation. Our Service Strategy development service includes:
Step 1. Discovery
How can the tools within Service Hub best be leveraged within your organization? Here we will take a close look at your internal processes and customer service processes to see how Service Hub can best be implemented. The goal will be to make your processes more visible and reportable while also improving the User Experience you provide to your customers.
We will be asking you questions like:
Are there moments in which prospects or clients currently experience a large amount of friction?
Are there moments in which prospects or clients need more support than usual?
What are essential processes that happen behind the scenes that are essential to your offering?
What are the main touch-points that your customers have with your company from prospect to client and beyond?

In just a few minutes each, could you give us a general idea of how the processes behind these touch-points currently work within your organization?

What teams are involved in each of these processes?
What steps need to be accomplished within each of these processes?

Would your customers benefit from (or do they currently benefit from) an onboarding process?
How are support cases currently created or documented in your organization?
How are they distributed throughout your service team?
What channels does your support and service teams currently use to communicate with leads and clients?
Are there common questions or concerns that leads or clients frequently need assistance with?
What kind of self-service support do your leads and clients currently have access to?
How do you currently monitor the satisfaction of your leads and clients?
Step 2. Service Process Mapping
Starting with the insights we gained in our discovery session, we will start to create a map of your service process that ensures that you will get the most out of Service Hub to improve your customers' Buyer's Journey
As we start to create your service map, we will review:
How new tickets will be created by the service team and internal teams, how they will be distributed and how they will be prioritized.
Creation of dedicated ticket pipelines that follow an optimized version of your current processes
Who is involved in these processes, what is their role within these processes and what do they need to accomplish to close a ticket?
Key pieces of information that are needed in order to have the full context of a ticket, and ensure that all steps of the process are completed properly.
Main points of friction that you, your leads, your service team, and your company as a whole currently struggle with.
Where your current internal or support processes currently lack visibility or reportability.
Self-service support resources that could benefit your prospects of clients.
New service processes that you could implement to solve problems that your prospects and customers are currently experiencing.
At the end of this part of the process we will review the resulting service map as well as any feedback that you and your team have: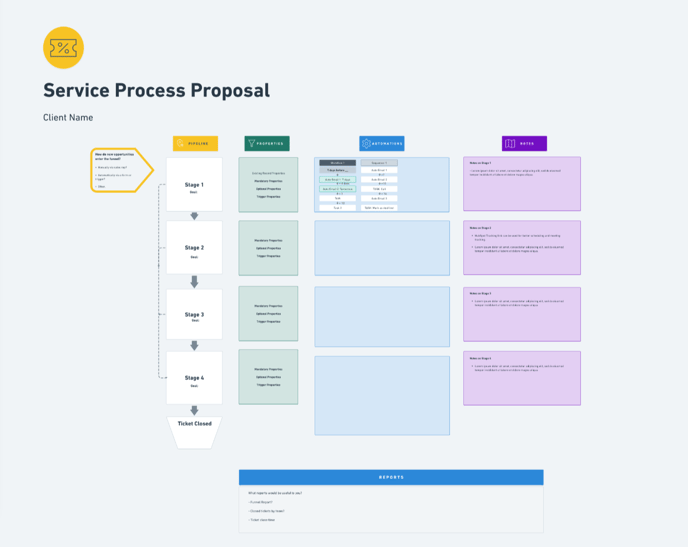 Step 3. Review & Feedback
Once we finish your full Service Process Map, we will review it with you in detail, answering any questions you may have, and incorporating your feedback as we go.
You will then have an additional period of time to review the Service Process Map offline. We generally recommend that you hold an internal meeting with at least a representative from each stakeholder team, so that you can gather feedback from all teams involved.
Once all feedback has been provided, you will officially approve of the process.
Implementation & Approval
If you have also chosen to complete your HubSpot Service Hub implementation with us, we will start to implement your service process within HubSpot once approved. This process will also have it's own respective approval period.
Ongoing Support & Training
Need help training your team? We offer Service Team training so your team can start off with the right foot within HubSpot.
You may also benefit from a period of flexible support after your new service process is implemented, in which case you can retain our HubSpot Support Services for the amount of time you need.
Our Plan for Success
We always start off each project with a clearly defined timeline, for service processes this timeline includes:
A Kickoff call where we will set a timeline and guidelines for the project and dig into your priorities for your Service Strategy.
A Discovery call where we will review your service processes from top to bottom, uncovering areas for improvement and ensuring that we understand your business and relevant processes.
A Service Process Mapping call where we will present our initial mapping of your optimized service process, and add additional detail based on your feedback.
Service Process Approval Call here we will review your service process mapping and any feedback you have provided thus far with the goal of reaching a final approved service process.
Setting Expectations:
What you can expect from us and what we expect from you in order to ensure that your project is as successful as possible.
What we expect from you:
Timely provision of relevant resources, accesses, and feedback.
Availability of an average of 90 minutes per week from all team members involved in strategy formation.
Availability of an average of 30 minutes per week from main points of contact to complete tasks.
What you can expect from us:
Continuous communication.
Transparency throughout our projects together.
A team that has your best interests at heart, since your interests are our interests.
Hard working and innovative team members.
Why Choose Digifianz for your Service Strategy?
Digifianz has extensive experience implementing Service processes and creating practical service strategies to foment customer success for companies in a variety of industries throughout North America, South America, and Europe.
We have always specialized in HubSpot, which gives us a unique experience and perspective to ensure that your strategy coincides with the tools you use.
Your company and it's purpose are important to us, with Digifianz you are not just a number — we manage a smaller number of clients, providing more comprehensive services, to become your strategic partner rather than a simple implementer.
A track record of success:
Our project with the emotional well-being platform, Zicofy is a great example of how we apply a consultation-first approach to strategy creation and implementation within HubSpot:
"Digifianz's consultative and culturally attuned approach has led to a successful implementation of HubSpot for Zicofy. Not only did the team demonstrate professionalism in the technical aspects of the implementation, but they also took the time to understand Zicofy's business and industry, resulting in highly personalized processes and tool customization. By quickly grasping Zicofy's mission to democratize access to emotional well-being, Digifianz was able to tailor their approach to fit the company's needs and culture. This cultural alignment and consultative approach were key factors in the project's success. Overall, Digifianz's work with Zicofy serves as a shining example of how a consultative and culturally attuned approach can lead to successful implementation of complex tools like HubSpot."

- Agustin Rodríguez, Co-Founder, Zicofy
Interested in taking your Service Process to the next level?